Labour Day Has Changed!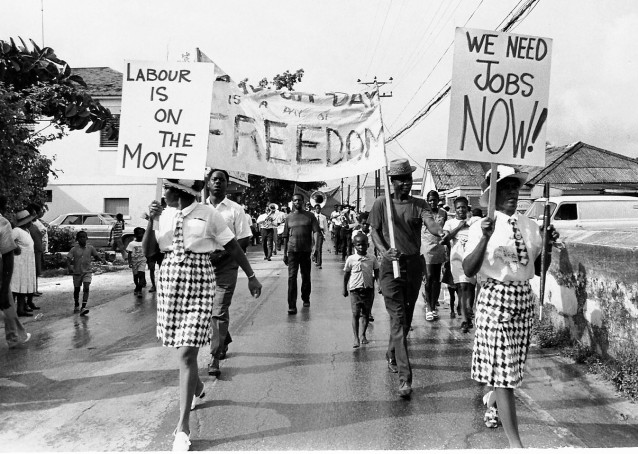 Labour Day Has Changed. In the past, Labour Day held greater significance, you would see men, women and children smartly attired their pride on full display. It was a day of Freedom, when unions took their issues to the street . Despite the fun they surely had, the issues of the day, were foremost in their minds. They were principled and conscientious, today many of us are not as concerned with issues that are not directly impacting us, but back them, they were unified and despite the risk, they were prepared to speak out. Case in point, in 1962, the workers of this nation stood in solidarity with those who were unemployed in an unemployment march, today, the unemployment rate is 14.8% (Department of Statistics 2015 Labour Force Survey), but many of us who are employed, have little concern for the suffering of our unemployed brothers and sisters.


As workers we must remember that solidarity, is much more than a slogan, it's about being concerned for others, unity and the willingness to support each other, particularly in times of crisis or difficulty. These values however, are lost in a society where we are consumed by our own needs and our personal comfort. But let us remember that Labour Day is held in June to honour the men and women of the Burma Road Riot. Those who were injured, arrested, imprisoned and died, so that we may enjoy the freedoms we so callously take for granted. Those folks, many uneducated and seemingly powerless stood mightily against the racist and oppressive regime of the day, they took upon their shoulders the hopes and dreams of an entire people, and despite the risk, fought so that we may have a better, brighter day. So on Labour Day, have fun and enjoy yourselves but never forget, your freedoms were brought at a high price.

See you on the parade!
No comments
Leave a reply
Lillian Wier-Coakley Library
Many times historic information cannot be found online, I encourage you to visit your local public library. I researched this topic at the Lillian Wier-Coakley Public Library on Baillou Hill Road at the foot of C. R. Walker Senior High School. I also wish to thank the staff, namely Shonley L. Cartwright, Flora Fernander and Genesta Stuart for their assistance.